Ashita no Shishi Legal Office periodically holds free legal consultation about International Contract. You can directly ask our lawyer about drafting, negotiation and dispute related to international contract. Our English speaking lawyer will answer to your questions. You can consult with him online from anywhere in Japan.
 Attorney at Law: Atsuro Tsujino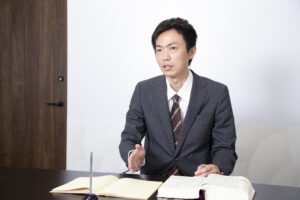 After passing BAR exam in Japan, Atsuro Tsujino joined Yamaha Motor as an in-house lawyer. There, he was in charge of domestic and international legal matters including M&A, IP license, litigation, international arbitration, finance laws, labor issues, joint research, and professional sports business.
He departed Yamaha Motor for a prestigious law firm back in Osaka, and has represented major clients including local governments and pharmaceutical companies in the Kansai region. Now, as the representative lawyer of Ashita no Shishi Legal Office, he is serving many corporate and individual clients while fulfilling his own dream to improve the world from Osaka through an independent legal practice. In order to make a society where no one will be left behind, he is actively supporting non-Japanese residents as a member of LNF (Lawyers Network for Foreigners).
 Date 
17th January, 2022 (Monday) 
10:00~16:45
 Place 
Ashita no Shishi Legal Office (MAP) 
If your location is not near to our office, we can offer online consultation using Zoom Meeting System.
 Deadline for Application 
14th January 2022(Friday)
If the number of application reaches 5, we may close application even before the deadline above.
We will reply to your application within 3 business days of your application. We may request additional information before consultation.
 How to Apply 
Please make application from our Contact Page.
We need following information to accept your application.
【Your name and your company name】
【Your Email Address】
【Name of company which you have made or are planning to make contract with】
【What you want to ask】
Our Regular Service
If you need legal assistance not on the Free Legal Consultation Day above, we can provide our service on our regular rate any time. Please refer to Our Rate.